Buy SoftActivity™ TS Monitor. Monitor Employees and Students on Terminal Server
Record all of their activity, from websites and apps to email, IM chats and more
User-friendly dashboard
The license is perpetual. You can use SoftActivity TS Monitor for as long as you like
Get 1 year of FREE Updates and Support
How many licenses do I need?
You will need a separate license of TS Monitor for every concurrent user session on the server that you want to record, i.e. 6 users license will record up to 6 any users logged on at the same time. It usually corresponds to the number of User CALs for Windows Terminal Server® that you have or number of Citrix® licenses
Example #1: You have 1 Terminal Server with 10 user accounts. All 10 users can log on to the server at the same time. You want to record 9 user accounts (1 is your administrator's/manager's user account that you don't want to monitor). For TS Monitor license enter servers: 1, users: 9 (total licenses: 9)
Example #2: You have a server farm of 3 terminal servers with load balancing and 25 user accounts on each server. You want to record all users on all servers. For TS Monitor license enter servers: 3, users: 25 (total licenses: 75)
Example #3: You have 1 Terminal Server with 20 user accounts. From time to time you want be able to monitor a newly hired employee. For TS Monitor license enter servers: 1, users: 1 (total licenses: 1). In the software select which user account should be monitored. This can be changed later to a different user
When you install TS Monitor you can select which users/groups to record or select All Users
Important information
Upgrade: if you need to monitor more users at any time, simply purchase additional licenses on this page. Enter the number of servers and users you want to add and click Buy Now. Then add your new license key to the existing installation of SoftActivity TS Monitor.
Once you complete your purchase, you will receive the full product and registration information instantly by email.
TS Monitor is not a subscription product. Buy the license once and use it forever. As a bonus, you get free 1 year subscription to our Updates and Support Plan. After 1 year to continue receiving updates and tech support you need to renew your subscription for 1 more year for a discounted price. Or you may choose to continue using the version you have and with no tech support
Before installation you will be asked to accept this

 

End User License Agreement (EULA)
If you need to get a quote/proforma invoice: click Buy Now, select method of payment: Wire Transfer or Purchase Order. Then click Generate Proforma Invoice. Print it.
You will get 1 year of free technical support via SoftActivity Online Support Center
Your personal information from your order will never be shared with anyone.
If you have already bought this product you can Download Purchased Software here
Methods of payment we accept
Orders & payment processing by BlueSnap, USA. Click Buy Now and select Method of Payment on the product's order page.
Visa, MasterCard, American Express, JCB and Diners Club, as well as UK debit cards Solo and Switch online. All credit card data are transmitted using the secure (encrypted) HTTP protocol according to the current SSL standard. If you still do not want to transmit your encrypted credit card number over our secure server connection, you can also place an order by fax or phone. Your ordering information will never be shared with anyone.
Bank Wire Transfers
Purchase Orders from corporations and educational organizations for amounts starting at $100 USD. Read how to order using Purchase Order
PayPal, Skrill (Moneybookers)
Electronic Check, Checking Account and More
Other payment methods. To view click Buy Now above, select your country and select Method of Payment from a drop down list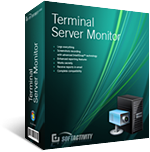 SoftActivity™ TS Monitor
RECORD SERVER SESSIONS
(14.1 Mb) Version 4.2