Buy SoftActivity™ TS Monitor. Monitor Users on your company's Terminal Servers
Record all activity in their sessions: from screenshots and websites to files and more
User-friendly web console with dashboard
The license is perpetual. You can use SoftActivity TS Monitor for as long as you like
1 year of Updates and Support is included!
Works with a server farm or a single server
Unlimited monitored users, unlimited supervisors
If you have any pre-sales questions or need a quote for more servers, please contact us at
sales@softactivity.com
Discounts for Educational and Charity organizations available. Contact us for a quote
How many licenses do I need?
You will need a separate SoftActivity TS Monitor license for each monitored server, i.e. a physical or a virtual machine where you install this software. Monitored server is where user sessions are running. Any number of user accounts can be recorded on a given server, in either remote or local console sessions. Record unlimited users on a licensed server.
In addition, you may install SoftActivity Webapp Server component on one or more computers belonging to the licensed organization. SoftActivity Webapp Server application does not require you to purchase additional licenses and is included for free. It is used for viewing logs and reports by administrators/supervisors in web browser. Unlimited number of supervisor accounts is supported.
Example #1: A farm of 2 Citrix XenApp servers with load balancing and 15 user accounts.  You will need 2 licenses of SoftActivity TS Monitor. In addition, you may install SoftActivity Webapp on a 3rd server (or on one of the 2 terminal servers)
Example #2: A company has 4 terminal servers with a total of 100 user accounts.  You will need 4 licenses of SoftActivity TS Monitor. In addition, you may install SoftActivity Webapp on a 5th server (or on one of the terminal servers)
Important information
Once you complete your online purchase, you will receive the full product and registration information instantly by email.
You will get a perpetual license: buy once and use forever. TS Monitor is not a subscription product.
You will get a 1 Year Free subscription to our Updates and Support Plan.
Renewal: to continue receiving updates and tech support after the 1st year, you will have an option to renew your subscription for a discounted price. Annual renewal costs about 35% of the initial license price. Click here to renew.
Upgrade: if you need to monitor more servers at any time, simply purchase additional licenses on this web page. Enter the number of servers you want to add.
Before installation you will be asked to accept this

 

End User License Agreement (EULA)
To verify if your organization qualifies for a discount as an educational or charity organization, please contact SoftActivity Sales department
How to buy
Online on this secure website:

Payment processing for orders placed on this website is provided by BlueSnap, USA. Click Buy Now and select Method of Payment on the order page. We accept:
Visa, MasterCard, American Express, JCB and Diners Club, as well as UK debit cards Solo and Switch online. All credit card data are transmitted using the secure (encrypted) HTTPS protocol according to the current SSL standard.
PayPal. Click Buy now above and select Method of Payment: PayPal.

Get a quote/proforma invoice from SoftActivity sales department. Provide your company name, address and the number of servers. In addition, we accept the following methods of payment:

Bank Wire Transfers
Purchase Orders from corporations and organizations
Credit cards, electronic check, checking account and more

Your personal information from the order will never be shared with anyone.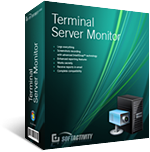 SoftActivity™ TS Monitor
RECORD SERVER SESSIONS
Version 5.0