Download TS Monitor 14-Day Free Trial. Monitor users in your terminal server environment
SoftActivity™ TS Monitor
Try before you buy! See how SoftActivity TS Monitor lets you monitor employees working on your Terminal Servers. Download 14 days trial fast and get the inside scoop on what they're doing, right from your own computer screen.
We may send you occasional email reminders about this free trial. You can unsubscribe at any time.
We will treat your information with respect. For more information about our privacy practices please read our Privacy Policy. By clicking this button, you agree that we may process your information in accordance with these terms.
We use Mailchimp to send you email reminders about this trial. By clicking this button, you acknowledge that the information you provide will be transferred to MailChimp for processing in accordance with their Privacy Policy and Terms.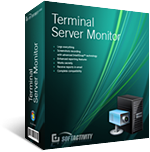 You can uninstall the free trial from your server at any time.
You can unsubscribe from our email messages at any time by clicking Unsubscribe link at the bottom of any email you receive from us.
We will never share your email with anyone (except Mailchimp, our email sending service provider).
REQUIRES: Windows Server 2019/2016/2012/2008R2 (64-bit). (System Requirements)
Supports Microsoft Remote Desktop Services and Citrix XenApp.
Before installation you will be asked to accept this End User License Agreement (EULA)
Free Trial Details
This Free Trial version is fully functional, i.e. has all features found in full licensed version.
This Free Trial expires in 14 days. In 14 days after installation you will need to either buy a license for your server or uninstall the free trial.
Upon expiration of 14-day trial period there is NO warning message shown to monitored users. Program remains hidden but not functional.